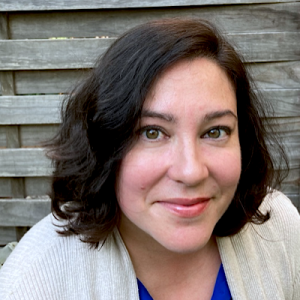 Date May 26, 2022
The Rutgers Center for Pharmacoepidemiology and Treatment Science extends a warm welcome to Monica D'Arcy, MS, PhD, new Core Faculty at PETS and Rutgers Institute for Health, RBHS Instructor in Department of Medicine, Division of Medical Oncology, Section of Cancer Epidemiology and Health Outcomes at RWJMS and member of Rutgers Cancer Institute of New Jersey's Cancer Prevention and Control Program.
Dr. D'Arcy describes the multiple reasons she is excited to join PETS and the Institute for Health. "It was important to be in a place where I could work with and be mentored by great cancer and pharmacoepidemiologists.  Being in PETS with a joint appointment at the NCI-designated Rutgers Cancer Institute of New Jersey satisfies that goal.  Furthermore, everyone I met seemed so genuinely collaborative. This is incredibly important because my research interests are so interdisciplinary," she says.  "Finally, the resources both at PETS/IFH and at the Cancer Institute are incredible. It is exciting thinking about all the great science that can be done here!"
Dr. D'Arcy is a cancer and pharmacoepidemiologist.  She received her undergraduate degrees in mathematics and computer science engineering from the University of Pennsylvania, her MS in epidemiology from Temple University and her PhD from the University of North Carolina in cancer and pharmacoepidemiology.  She also completed a postdoctoral fellowship in cancer epidemiology at the National Cancer Institute in the Division of Cancer Epidemiology and Genetics (2022). Prior to initiating her doctoral degree, she worked for almost a decade as a software developer and bioinformatics specialist in both industry and at the Children's Hospital of Philadelphia.
She has extensive experience using several types of big data for epidemiologic cancer studies including gene expression, Medicare claims, the Clinical Practice Datalink and SEER-Medicare.  A common theme underlying her research is the use of diverse data sources and novel strategies to reduce the burden of cancer.
Dr. D'Arcy plans to focus upcoming research on the use of electronic medical records to identify individuals who are at elevated risk of lung cancer but who are ineligible for screening because of their smoking history and age. "Close to 25% of incident lung cancers are diagnosed in people who never smoked.  I believe that some of the existing massive data sources we use for research at PETS could be leveraged could be used to identify screening-ineligible persons at elevated risk for lung cancer.  This in turn could lead to earlier identification and ideally better outcomes," she says. "This of course will take a while to accomplish, but it is well worth the effort.  Lung cancer is a horrible disease."